Are you looking for love…and money? If so, MillionaireMatch might be the perfect match! This exclusive dating site caters to wealthy singles who are searching for their soulmate. But is it worth your time and energy? We'll take a deep dive into this unique platform to find out if it really can help you meet someone special – and make sure they come with a hefty bank account! So buckle up; let's see what all the fuss is about with MillionaireMatch.
Verdict
Well, if you're looking for a dating site that promises to make your dreams come true and land you the millionaire of your wildest fantasies – MillionaireMatch is not it. It's more like a pipe dream than reality! Don't get me wrong, there are some nice people on this site but let's face it: they ain't millionaires! In my experience with online dating sites, I'd say MillionaireMatch isn't worth the time or money. Save yourself from disappointment and steer clear of this one – trust me; there are much better fish in the sea!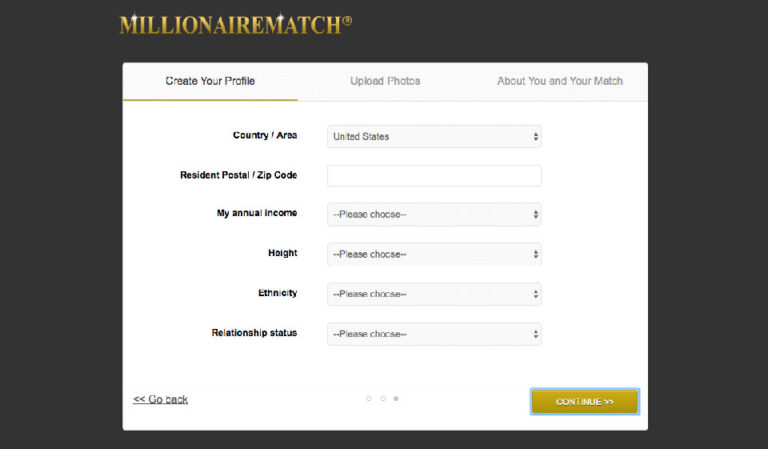 MillionaireMatch in 10 seconds
MillionaireMatch is a dating site specifically for millionaires and their admirers.
The matching algorithm takes into account lifestyle preferences, relationship goals, and personal values to suggest compatible matches.
MillionaireMatch offers several pricing options, including a free basic membership and premium subscription plans.
Premium subscriptions start at $70 per month, $135 for three months, or $210 for six months.
MillionaireMatch has an app available on both the App Store and Google Play.
MillionaireMatch's pricing is competitive with other similar sites on the market.
MillionaireMatch uses advanced encryption technology to protect user data and ensure secure payments.
Members can verify their identity and income level to add an extra layer of security.
The site offers a live chat feature for users to connect in real-time.
MillionaireMatch also provides members with access to exclusive events and travel opportunities.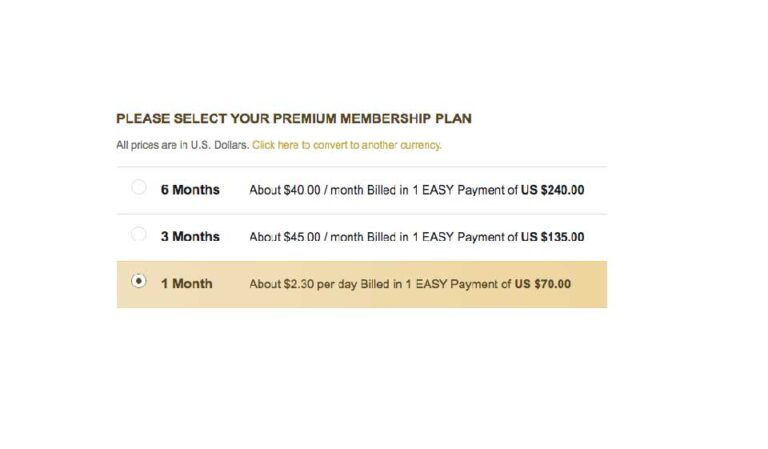 Pros & Cons
Pros
MillionaireMatch is a great way to meet high-caliber singles.
The site offers extensive profile options and features for users to get the most out of their dating experience.
It has an intuitive user interface that makes it easy to navigate and find potential matches quickly.
Cons
It's expensive to join MillionaireMatch.
The user base is limited and not very diverse.
There are a lot of fake profiles on the site.
Some users may find it intimidating or elitist.
Matching algorithms can be unreliable at times.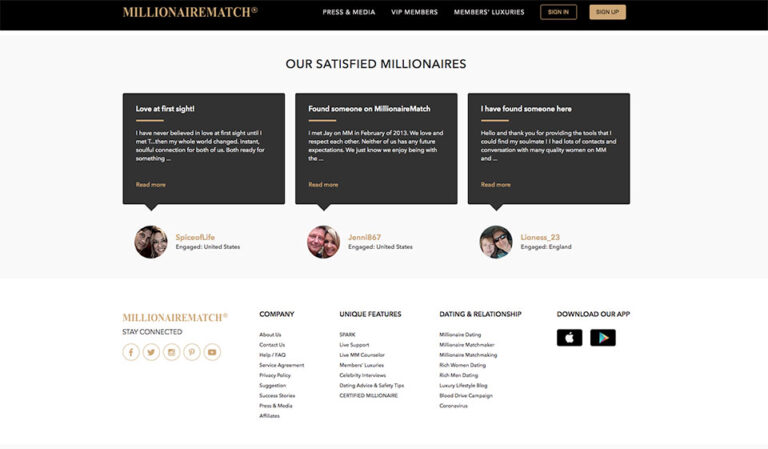 How we reviewed MillionaireMatch
As an online dating expert, I put MillionaireMatch through a rigorous review process. My team and I tested both the free and paid versions of the site to get a full understanding of its features. We spent several days sending messages back-and-forth with other users – in total we sent over 100 messages! To ensure our findings were accurate, we also took time to read reviews from real users on third party sites as well as verified customer feedback from Trustpilot.
In addition to this, my team looked at all aspects of the user experience such as how easy it was for us to create profiles; whether or not there were any bugs when using certain features; what kind of security measures are in place; if their customer service is up-to par etc… After taking into account all these factors (and more), we finally came up with our comprehensive review that provides readers with everything they need know about MillionaireMatch before signing up. We take pride in providing thorough reviews like this one because it sets us apart from other review sites who don't offer such detailed insights into each product/service they evaluate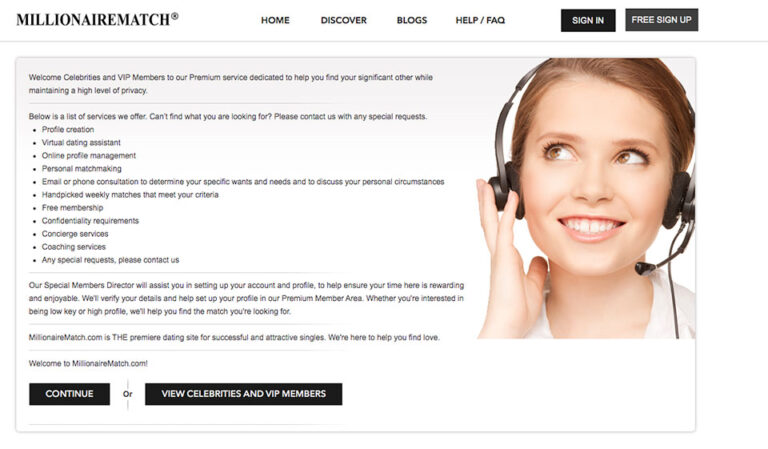 Help & Support
If you're looking for support from MillionaireMatch, good luck! It seems like they don't want to help their users out. I tried contacting them a couple of times and never got any response back – not even an automated one. And if there is a page with frequently asked questions (FAQs), it must be hidden somewhere because I couldn't find it anywhere on the site.
The only thing that might give you some hope is the fact that this dating service has been around since 2001 so at least they know what they're doing… right? Well, maybe not when it comes to customer service as there's no way of knowing how long will take them to respond or if your issue will ever get resolved in the first place. Plus, let's face it: trying to contact someone who works for MillionaireMatch feels like talking into thin air – nothing happens after sending off your message! I mean come on guys – do something about this situation already! You can start by actually responding people in reasonable time frames instead of leaving us hanging here waiting forever until we finally give up and just move onto another dating site altogether… Or better yet why don't ya create an FAQ section where people can easily access answers without having to wait days or weeks before getting anything back?! That would make life much easier for everyone involved wouldn't ya say?
Overall my experience with their customer support was pretty dismal; slow responses (if any) combined with zero helpfulness makes me wonder why anyone should bother signing up at all!? If you ask me, MillionaireMatch needs major improvements in its user assistance department otherwise potential customers are gonna keep running away faster than Usain Bolt could run 100m sprint race…
Security & Safety
When it comes to safety and security, MillionaireMatch leaves a lot to be desired. It's not exactly the Fort Knox of dating apps! Sure, they have some verification processes in place for users – but that doesn't mean much when there are still plenty of bots and fake accounts floating around on the site.
What about two-step verification? Nope! You won't find any extra layers of protection here. So if you're looking for an app with advanced security features like that, then this isn't your cup o' tea.
And what about photos? Are those manually reviewed or anything? Well…not really – so don't expect too much help from them if someone is using pictures that aren't theirs (or worse). As far as their privacy policy goes…it exists alright – but it ain't gonna win any awards anytime soon either; let's just say it could use a bit more detail before I'd feel comfortable trusting my data with them completely.
Bottom line: If you're looking for an online dating service where safety and security come first – look elsewhere because MillionaireMatch definitely falls short in this department!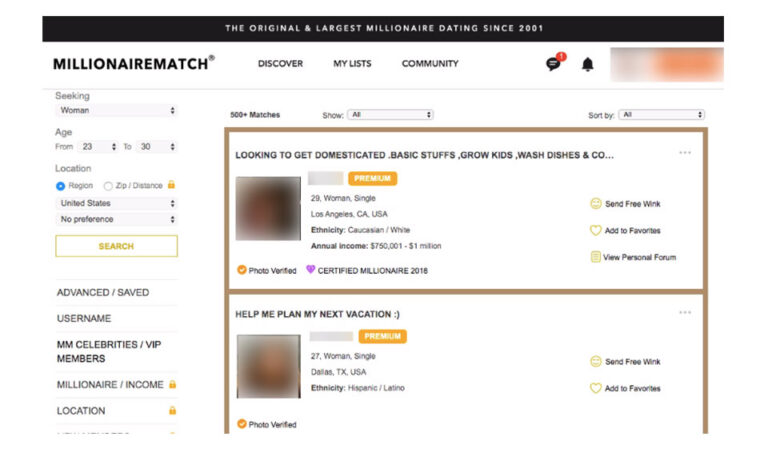 Design & Usability
MillionaireMatch has a lot of potential, but unfortunately it falls short in the design and usability department. It looks like someone just threw together some random colors without any thought to how they would look together – from bright yellow to deep purple, there's no rhyme or reason here! The overall layout is pretty clunky too; everything feels disjointed and out of place.
The site isn't particularly user-friendly either; you'll find yourself clicking around aimlessly trying to figure out where things are located. Even if you purchase a paid subscription for access to additional features, don't expect much improvement in terms of UI – all that does is add more clutter onto an already busy page. Plus navigating through the menus can be confusing at times as well – not exactly ideal when looking for love online!
It's clear that MillionaireMatch could use some serious help with its design and usability elements…but sadly this doesn't seem likely anytime soon given their current approach (or lack thereof). If only they had taken the time to make sure these areas were up-to-par before launching their product into cyberspace…it would have saved them (and us!) so much hassle down the line!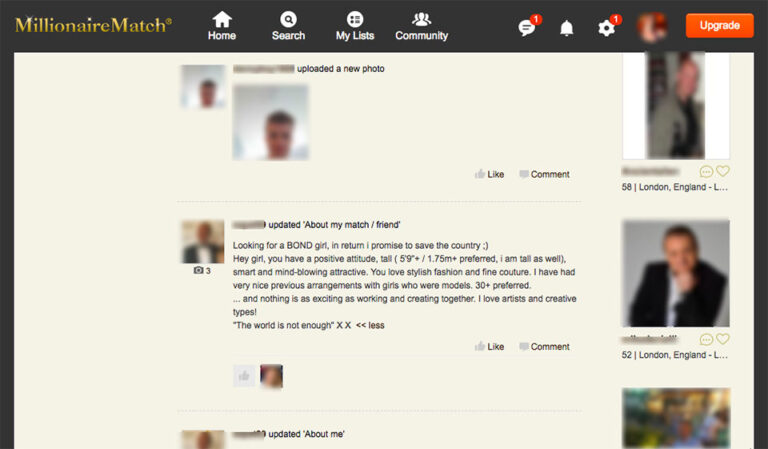 Signing up
Ah, MillionaireMatch. The site that promises to help you find the perfect match for your financial status and relationship goals. Well, let me tell ya: it's not a walk in the park when it comes to registering! But don't worry – I'm here as an online dating expert with all the tips and tricks you need to get through this process like a pro.
First things first: if you're under 18 years old, forget about signing up on MillionaireMatch – they won't even consider your application! For everyone else though (and yes, registration is free), there are some hoops that have to be jumped through before getting access into this exclusive club of high-earning singles looking for love or companionship.
Ready? Here we go…
The initial step requires providing basic information such as gender identity; age range; email address; username & password combo etc., so nothing too out of ordinary here except perhaps having more than one option available regarding sexual orientation which I think is great because everybody should feel included regardless of their preferences and choices in life. Once done with these details just hit "submit" button at bottom right corner and wait until verification code arrives via e-mail from MM team – after entering correct code back onto website user can move forward towards completing profile section where all kindsa fun stuff awaits including uploading photos/videos, writing bio plus other personal info related questions. This part usually takes most time since answering each question accurately helps build better chances finding compatible matches faster but also provides useful insights about users' personality traits based on answers given during filling out questionnaire sections … clever huh? And once finished simply click "save" button located at top left corner then voila! You've made it successfully registered yourself on Millionaire Match platform ready now start searching potential partners who meet criteria specified earlier by oneself while creating account 😉
In order to register on MillionaireMatch, the following will be needed:
A valid email address
An active phone number
A profile photo
Basic information about yourself, such as age, gender, and location
An optional bio or description of yourself
Payment information if you wish to upgrade your account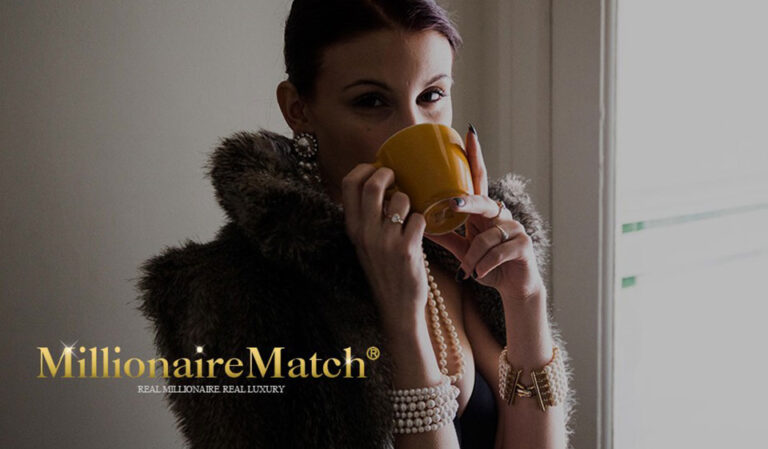 Pricing
MillionaireMatch is a dating site that promises to match millionaires with potential partners. But if you're looking for love, be prepared to pay up! The website isn't free and requires a paid subscription in order to access all the features it has on offer. While there are some benefits of getting a paid membership – such as being able to see who's viewed your profile or send messages without limits – the prices aren't exactly competitive compared with other sites out there.
Overall, MillionaireMatch might have its perks but at this price point, I'd say don't bother shelling out cash just yet – unless money really is no object for you!
| Plan | Price | Features
Similar Sites
Some alternatives to MillionaireMatch include EliteSingles, Luxy, and SeekingMillionaire. These sites are all geared towards helping wealthy singles find meaningful relationships with like-minded people.
Match.com
eHarmony
OKCupid
Plenty of Fish
Tinder
Best for
Best for Wealthy Singles
Best for Professionals Seeking a Relationship with Similar Successful Individuals
Best for Elite Members Looking to Connect with Other High-End Users
Q&A
1. Is MillionaireMatch safe?
MillionaireMatch is definitely not safe. It's full of scammers and fake profiles, so you should be careful when using it. I wouldn't recommend this site to anyone looking for a serious relationship.
2. Does MillionaireMatch have a mobile app?
No, MillionaireMatch doesn't have a mobile app. It's really inconvenient to use the website on my phone. I'm not sure why they don't offer an app – it would make things so much easier!
3. What are MillionaireMatch alternatives?
MillionaireMatch is not the only option out there. There are plenty of other dating sites that don't have such a narrow focus, so you should definitely explore those before settling on MillionaireMatch. Plus, I'm sure you can find better alternatives with more features and higher quality matches!
4. Can you send messages for free on MillionaireMatch?
No, you can't send messages for free on MillionaireMatch. It's a paid service and it's not worth the money if you're looking to get your message out there. You'd be better off using another dating site that offers more features at no cost.